How to Create an Effective Sales Funnel
As entrepreneurs one of your main objectives is to turn your prospects into paying clients and customers? That means you need to master the art of creating effective sales funnels. If you aren't familiar with that term, picture what a funnel looks like. Coming into the funnel, you have website/landing page visitors, those visitors turn into leads, then ultimately they come out of your sales funnel as clients and customers. Simply put, a sales funnel is a sales process that goes from the initial promotion or touch point to the sale of your product or service.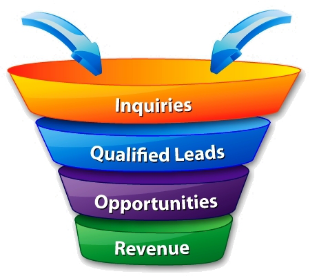 So let's take a look at how to create a sales funnel that is effective.
#1 Discover who your target market is – There is no point in promoting to people who are not interested in what you are offering. So take the time to identify your audience, discover their pain points, then determine what is the best suited to sell your products/services to that market. It's important to figure this out before you start generating leads.
#2 Capture leads – It's time to begin capturing the attention of your ideal clients and customers, then build your list so that you can grow your business. These leads are extremely important to your business as they are your potential revenue. In order to attract visitors to sign up for your offers, you are going to have to be giving them something. A good way to do this is to begin your sales funnel by giving the visitor something for free, such as a free report, audio or video download, checklist, template, etc. Make sure your freebie actually offers real value or your visitor won't respond which lead to a dead end.
#3 Build a relationship with your leads – Now it's time to sell them your "stuff" so you can make some money. You can start to promote your product here and to work towards converting them into paying clients and customers. You will absolutely need to be offering a product of high quality if you wish plan on acquiring repeat clients and customers. It's repeat business that allows you to grow your revenue and your business effortlessly. Creating your sales funnel is easy, but creating one that is effective and that will grow your business takes a little more planning.
Follow these three simple steps and you will be well on your way to building a very effective sales funnel that you can rely on. When your sales funnel brings in visitors and turns them into clients and customers, you then begin to enjoy the profits you've desired. This is a highly effective plan so why not try it today.
Posted in Launch Strategy, Planning, Sales Funnels