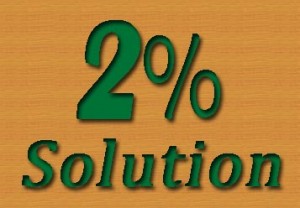 If you are at all familiar with Brian Tracy then you know how often he encourages his seminar attendants to improve themselves by two percent per week.
Realistically we know you can't change one hundred percent overnight, but by setting a goal to improve yourself by two percent each week you will chip away at the one hundred percent and become the success you envision.
Self-improvement is no longer just for overachievers but an absolute must for anyone desiring to stay relevant in today's marketplace. In an environment where new technology is upgraded almost before it's installed, you can't afford to be content with your current state.
Personal development is about YOU becoming responsible for staying ahead of your market and your clientele by consistently upgrading yourself. Remember, as an entrepreneur, you are the CEO of your company.
Those that are in the two percent upgrade themselves by constantly learning and growing. This can be done by attending seminars and workshops, listening to professional development and training audios, and by reading books and magazines that empower and educate. It doesn't make much difference which option you choose, though a mixture of all would not hurt anything. Research has indicated that any type of learning stretches the mind.
Learning never exhausts the mind. ~ Leonardo da Vinci
We have all either heard or even made the statement "You learn something new everyday". The thing that makes that true is if you are open-minded enough to be consistently learning.
Make a commitment to learn something daily. Subscribe to magazines and newsletters, read blogs, listen to podcasts all related to your industry to keep track of current information and trends. Commit to improve two percent each week. You may have to make some small sacrifices but the rewards are limitless.